Opening on April 24th for the 2021 Season!
Thanks to all of you for making our 2020 season so wonderful!  We appreciate your faith and confidence in the Georgetown Loop Railroad in a challenging year for everyone.  Our ridership in 2020 greatly surpassed our expectations.  Your support and patronage will allow our team to complete our routine maintenance and repairs over the winter as well as make a number of equipment and facilities improvements.  Please stay safe, warm and well this winter.  We look forward to seeing you again in the spring of 2021!
At the Georgetown Loop your safety and health is our priority. We will always operate following the best practice recommendations from the Centers for Disease Control as well as state and local health officials.
Sunshine, Space and Fresh Air!
• All cars for the 2021 spring and summer seasons will be open air cars so you may enjoy our clean, beautiful Rocky Mountains to the fullest!
• We have cut capacity and added cars for the start of the season to the train to allow for even more spacing between guests. Enjoy an uncrowded outdoor adventure!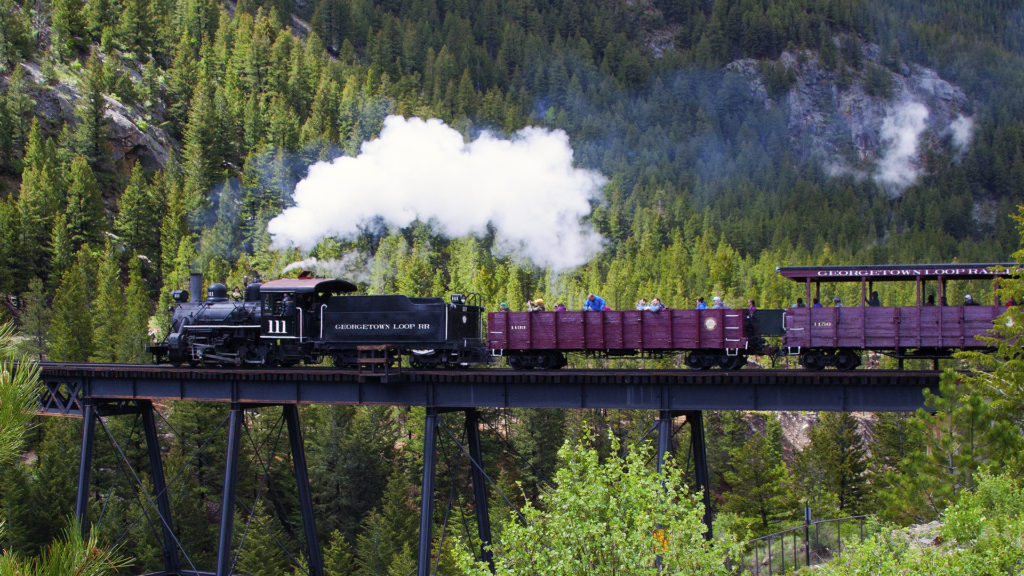 Purchase tickets with confidence.

For the 2021 season we provide full refunds without penalty to any guests who cancel at least 24 hours prior to departure for whatever reason with no questions asked. Even if you purchase a ticket now for an October train we will still provide a 100% refund if you cancel 24 hours in advance.
Book the Caboose for a Very Special Ride!
The Caboose will be available on a very limited basis on trips originating out of Silver Plume. We plan on firming up the schedule for this train only in mid-June. Please check back for further information.
There is no better view than that from the cupola of our vintage caboose!  The historic Caboose #0586 was built in 1885 and spent 85 years roaming the Colorado mountain narrow gauge lines of the Denver and Rio Grande Railroad.  You can relive those days in this beautifully restored caboose by reserving your own special experience for your family of up to 9 people. The caboose will be run on special occasions for 2021. A schedule will be posted in the spring. The cost for booking the caboose is only $289.00. The absolute maximum number of people in your party is a total of 9. Children under 5 years of age cannot ride in the cupola (the top of the caboose). No moving within the caboose while the train is in motion please.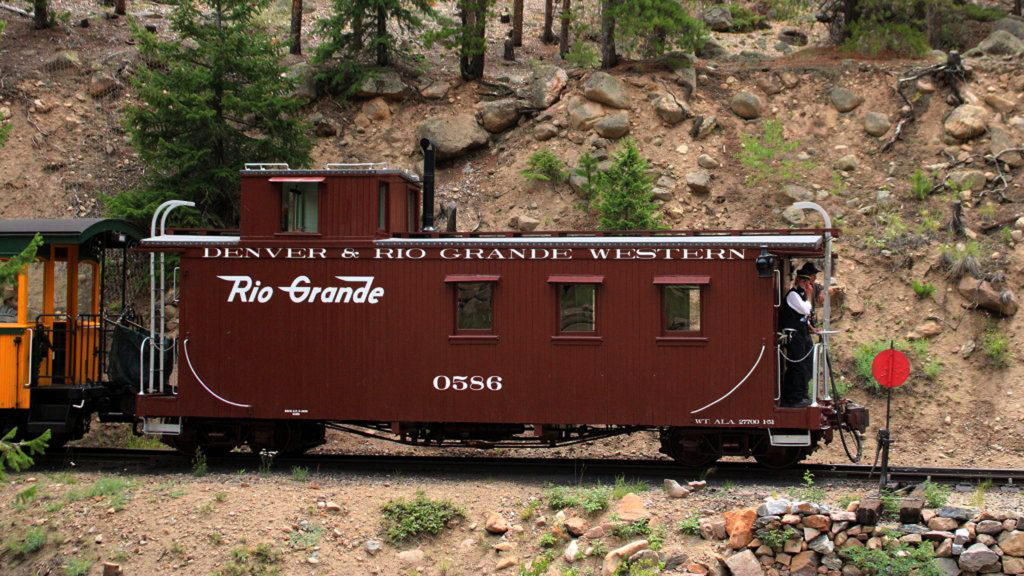 Georgetown Loop Railroad®
Historic trains, mines and adventures.
A true Colorado gem.
Located just off I-70 and only 45 miles west of Denver, the Georgetown Loop Railroad and Mining Park is one of Colorado's most authentic living museums and historically immersive experiences. Bring your family and friends for a narrow gauge train ride, book a real silver mine tour, or learn how to pan for gold. Discover the rugged romance of the Colorado Rockies in the 1880's. Climb aboard and travel back in time. We may just become part of the colorful history and traditions of your family too!
Loop us into your calendar throughout the year. Special events are happening in every season.
2021 season late April through December!
Mine Tours and
Gold Panning May Through September
2021-Wild West Days
Dates to be determined.
Grandparents Weekend
September 11-12
Photo from 2019. For 2021 Social Distancing procedures will be in place as requried.
Fall Colors
September 18, 19, 25 and 26
Pumpkinfest
October 2, 3, 9 and 10
Photo from 2019. For 2021 Social Distancing procedures will be in place as required.
Autumn Fest
October 15, 16, 17 and 22, 23, 24!
2021 Holiday Trains
Please check back with us in the fall for details.
2021 Holiday Lighted Forest
Please check back with us in the fall for details.
2021 Victorian Holiday Celebration
Please check back with us in the fall for details.
Adventure Awaits
Burros at the Silver Mine
Burros were an important part of mining in Colorado and especially in our area. Burros provided transportation of supplies to the mines as well as hauling silver ore out of the mines.
Gold Panning at the Everett
It all started with finding a few flakes of gold in a pan in Clear Creek in 1859 and the rush was on. You too can experience the same excitement and pan for real gold!
Lebanon Extended Tour
Go deep into our historic silver mine more 1,000 feet underground to see the artifacts left by the men working there more than a hundred years ago. Learn what it was really like to be a hard rock miner in 1889.