Welcome to our 2021 Holiday Season!
Discover the best of Colorado's Rocky Mountains by visiting the Georgetown Loop Railroad and Mining Park for gold panning & historically immersive experiences.
At the Georgetown Loop, your safety and health are our priority. We will always operate following the best practice recommendations from the Centers for Disease Control as well as state and local health officials.
Our NOVEMBER/DECEMBER/JANUARY TRAINS will feature heated and enclosed cars so FACE MASKS ARE REQUIRED on these trains and in buildings per TSA regulations. We will always follow all Federal, State and local safety guidance now and in the future.
Thank you very much for your understanding.
Face masks are required per the TSA in the station, in the tent, and on the train.
The holiday trains will use enclosed and heated cars.
The TSA requires masks except when eating or drinking.
Our premium cars (Parlor, Tahoe, and Waldorf) will operate much like a restaurant's protocol since snacks and beverages are served. Please wear a mask while boarding and until your food and drinks are served in these cars. Please wear a mask after eating and drinking.
In the coach cars please wear a mask unless you are eating or drinking.
As noted, this is a TSA requirement.
Importantly, we will endeavor to keep fresh air circulating through the cars by keeping door vents open. You may feel a slight draft compared to previous years.

We will gladly provide a 100% refund for your tickets if you are unable to wear a face mask or are feeling ill. Simply email us at info@historicrailadventures.com or phone 888-456-6777.
Note-Those riding in the parlor, Tahoe and Waldorf cars will not be wearing a mask while they are eating and drinking just as in a restaurant. If this concerns you we will gladly issue a refund.
Thanks and we look forward to seeing you soon!
Georgetown Loop Railroad®
Historic trains, mines, and adventures.
A true Colorado gem.
Located just off I-70 and only 45 miles west of Denver, the Georgetown Loop Railroad and Mining Park is one of Colorado's most authentic living museums and historically immersive experiences. Bring your family and friends for a narrow gauge train ride, book a real silver mine tour, or learn how to pan for gold. Discover the rugged romance of the Colorado Rockies in the 1880s. Climb aboard and travel back in time. We may just become part of the colorful history and traditions of your family too!
Loop us into your calendar throughout the year. Special events are happening every season.
Santa is Coming to Town!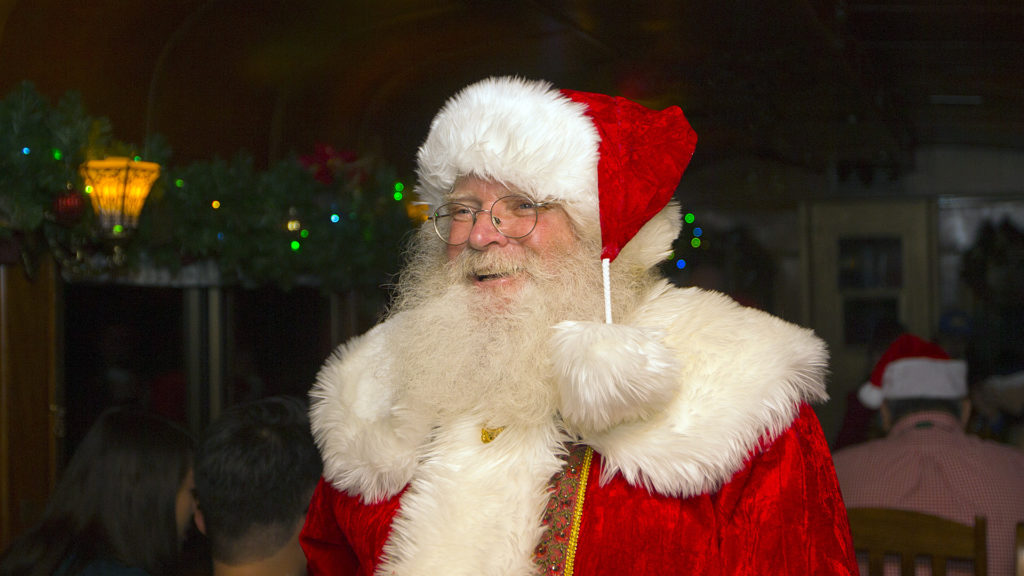 The reservation system is now open for our Santa Trains and the after Christmas Victorian Holiday Celebration!
All cars will likely be a little cooler in temperature this season. We will have up to 2 windows or vents partially open in each car to circulate air through the car. Please be understanding of this requirement and dress accordingly. The windows will not be wide open and there will still be heat in the cars.
PER THE TSA, FACE MASKS WILL BE REQUIRED while riding the HOLIDAY TRAINS at all times except when eating or drinking. Our November/December holiday trains feature enclosed cars. Face masks are also required while in the station and in the tent while waiting to board. Please understand that this is a Federal Government TSA rule to which we must abide.
A little different this year is the fact that reservations for the premium cars (Waldorf, Tahoe and Parlor Cars) will be sold by the table rather than by the ticket to ensure that your family/group has a table to themselves.
The Waldorf only has 4 top tables. The Tahoe has 3 top and 4 top tables available. The Parlor Cars have 2 top and 4 top tables.
Please note that tables will only hold as many people as designed. For example, a 4 top table can only have 4 people including adults and children (3 years and older) at that table. We must keep the aisle way open. If you have 5 people in your group we suggest getting a 4 top table next to a 2 top table if available. Seating can accommodate 1 additional infant per table, but the infants must be able to sit on an adult's lap.
The pricing for a 4 top table this year is less than if you had purchased 4 separate tickets and sat at a 4 top in 2019.
We have new bench seating in both the Waldorf and the Tahoe that is more spacious than before. (In the Tahoe, the 3 top tables do have one chair rather than a bench on one side.) The Parlor Cars still feature chairs around the tables.
You may now choose exactly the car and table in which you will ride. We cannot change your table location after you make your reservation as that would require moving other guests and would not be fair to them.
The coach section is still sold by the individual ticket.
The Waldorf is our most ornate car with rich wood coloring. The Tahoe is elegant with bigger windows than the Waldorf. The Parlor Cars offer a spacious feeling interior with large windows.
We look forward to celebrating the holiday season with you!
Uber and Lyft Information- Please be advised that Uber and Lyft will not take you from the Denver area to Georgetown. If they do bring you up they most likely won't pick you up again. Unfortunately, this is something we struggle with and cannot control.
Mine Tours and
Gold Panning May Through September
Wild West Days
August 21, 22, 28 and 29!
2021-Wild West Days
August 21, 22, 28 and 29!
Grandparents Weekend
September 11-12
Fall Colors
September 18, 19, 25 and 26
Pumpkinfest
October 2, 3, 9 and 10
Autumn Fest
October 15, 16, 17 and 22, 23, 24!
2021 Holiday Trains
November 12 to Janaury 2!
2021 Holiday Lighted Forest
November 12 to January 2!
2021 Victorian Holiday Celebration
December 26 to Janaury 2!
Adventure Awaits
Burros at the Silver Mine
Burros were an important part of mining in Colorado and especially in our area. Burros provided transportation of supplies to the mines as well as hauling silver ore out of the mines.
Gold Panning at the Everett
It all started with finding a few flakes of gold in a pan in Clear Creek in 1859 and the rush was on. You too can experience the same excitement and pan for real gold!
Lebanon Extended Tour
Go deep into our historic silver mine more 1,000 feet underground to see the artifacts left by the men working there more than a hundred years ago. Learn what it was really like to be a hard rock miner in 1889.