History Colorado Members Ride for Less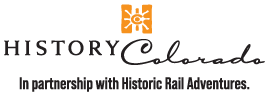 History Colorado members receive special rates for all Georgetown Loop trains and tours. Member rates are only available when you make a telephone reservation. To receive your discount, please call 1-888-456-6777, identify yourself as a History Colorado member, and have your membership card with you. Member rates are good for two adults and children or grandchildren under age 16. You must present your membership card when picking up your tickets.

Please pick up reserved tickets at your designated station at least 20 minutes BEFORE your departure
*** Mine tours available May 22 – October 9, 2020.
*** No mine tour offered on the last departures of the day. 
TERMS
Please note that reservations are for a specific date and departure. Please allow sufficient driving time. Like any ticketed event, all sales are final and no refunds are offered. Colorado weather is unpredictable and the railroad operates open cars, rain or shine. Be prepared, as no refunds or rain checks are offered for inclement weather.

FREE PASSES
If you have free passes issued by History Colorado, reservations are required. Please call 1-888-456-6777 to book your trip date and time. Your passes must be presented, along with a valid History Colorado membership card, when you pick up your tickets at the depot. Ticket agents are not able to issue tickets unless the passes are surrendered. Please do not forget to bring them.

*** Free passes can be used for coach tours or coach tours with the Lebanon Silver Mine. Other train options include an additional fee
---
*** While every effort is made to adhere to the published schedule, the Georgetown Loop Railroad reserves the right to delay or cancel trains for any reason and will not be held liable. Locomotives and passenger cars are subject to change without notice.
---
Call Now For Reservations: 1-888-456-6777
Email: info@historicrailadventures.com
Address:
P.O. Box 249
Georgetown, CO 80444