A TUNNEL TO ANOTHER TIME…
April through September – Mines closed October, November, December and January.
Experience the 'Old West' as it was when Georgetown was known as "The Silver Queen of the Rockies"

---
THE LEBANON SILVER MINE TOUR:
Enhance your train ride with an optional walking tour of the Lebanon Silver Mine, located at the halfway point on the railroad. The tour takes you 500 feet into a mine tunnel bored in the 1870s. Your guide will point out rich veins of silver and tell you about early-day mining. The temperature inside the mine is a constant 44 degrees Fahrenheit, so bring a jacket or buy one in our well-stocked gift stores. The tour also includes visits to the manager's office, and the miners' change room.
---
THE LEBANON EXTENSION MINE TOUR:
The Lebanon Extension mine tour goes into the newly re-opened southwest Lebanon access tunnel. This tour takes you over 900 feet into Leavenworth Mountain. This tunnel follows a section of the Hise ore body that extends from the silver mines of Silver Plume to the Silver Queen mine in Georgetown. You will see naturally occurring "silver pearls", calcified hobnail boot prints, calcite dams, stalactites that are over 100 years old.
---
THE EVERETT GOLD PANNING & SILVER MINE TOUR:
The Everett Mine has recently reopened! It gives visitors a sense of a mine when it was brand new and in operation in the late 1880s. The lighting is set to a level similar to the candle lights the miners would have been using. The interior mine exhibits cover: the transition from hand drilling to mechanical drilling, the differences between black powder and dynamite blasting, ore removal, timbering, and tunnel construction. Guests also pan for gold, and can take home everything they find! Every guest receives a hot dog, chips, and lemonade.
---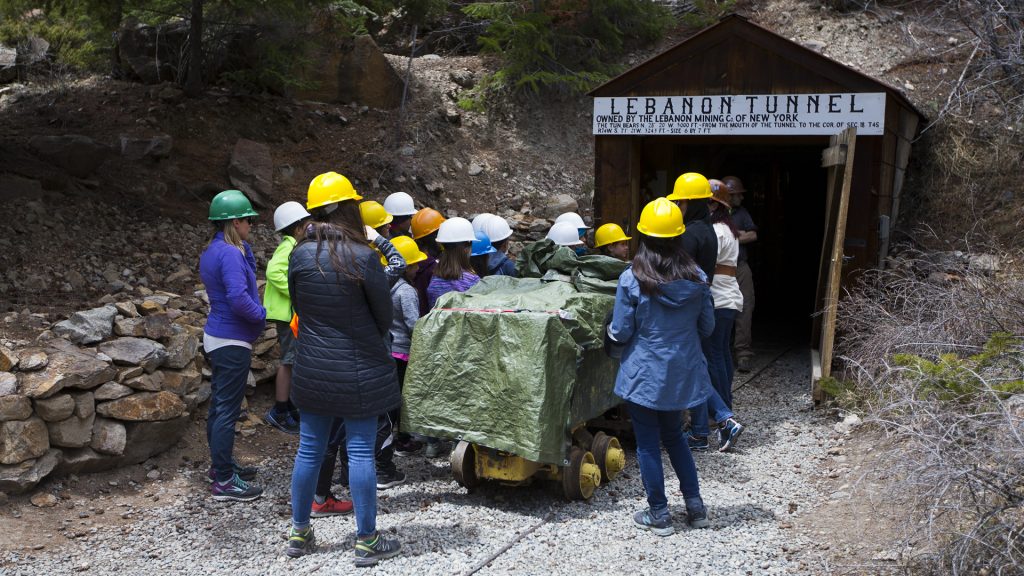 NOTES & TERMS: The mine tour adds another 1 hour and 15 minutes to your train trip. The mine tour is not recommended for young children who cannot walk the entire distance on their own, anyone who is mobility impaired in any way, or those who might have a problem at 9,000 feet in elevation. Strollers and wheelchairs are not permitted. Mine tours are not available on the last train departure of the day. All guests must wear hard hats. The tours involve about 3/4 of a mile of walking into dark, enclosed spaces. Children under 5 years of age are not permitted underground in either the Everett or the Lebanon Mines. Children under 5 years old may visit the site of the mines but must stay above ground and under the care of a parent or guardian. We encourage those guests with children under 5 years old to book the Everett Mine Tour when possible as that site has entertainment attractive to children such as a sandbox, gold panning and a hot dog meal. Weather conditions can change rapidly, so please come prepared for an outdoor adventure!
---
*** While every effort is made to adhere to the published schedule, the Georgetown Loop Railroad reserves the right to delay or cancel trains for any reason and will not be held liable. Locomotives and passenger cars are subject to change without notice.***
---
Call Now For Reservations: 1-888-456-6777
Email: info@historicrailadventures.com
Address:
P.O. Box 249
Georgetown, CO 80444